Human or Robot? How are you perceived by the community you serve? How are you perceived by those you are marketing to? 
As owners of a small business, you are the face of your company whether you want to be or not.
Just relax, be you and show your human side.
Below is a guest blog post by Karina Briggs
Owner of Purple Door Digital Marketing
"Consumers open emails with personalized subject lines at a 50% higher rate compared to emails without personalized subject lines, yet only 2% of emails employ personalization. (Yes Marketing, 2017) "
The purpose of email marketing is to engage and connect with your customers to build customer loyalty to then increase sales and revenue for your business. However, it's common to forget that key purpose of interacting with your customers. All too often, we throw out a discount, or say "we miss you," while making it obvious we really just want their money. In that case, we might as well just program a robot to do our job for us! But why don't we? Because robots can't do what only humans can do–connect. Take a look at these tips to make sure you're not making the fatal mistake of robot communication.
don't write long, generic subject lines
Email marketers tend to write long, generic subject lines for their emails so they don't rule out anything or anyone. But people aren't going to analyze everything you say to make sure it's accurate and thorough. The purpose of email marketing is to communicate with your customers. Talk like a real person and they will respond like real people do. Robots are one-dimensional. They don't require any care or communication. So unless your purpose is to broadcast a ton of information, try being human.
use emojis
One tactic to being personable with your subject lines for emails is to use emojis. Emojis are often used in texting and have a casual, personable vibe to them. Utilizing emojis will show your recipients that you are a real person sending the email; not a robot sending an automated email. Emojis are also great for communicating emotion. People want to feel cared about. Show them you care by sending customized emails and an emoji here and there.
don't throw out discounts to customers that are not interested
One of the most common tactics email marketers use to re-engage lost customers is through discount coupons. But have you ever considered that price is not the problem?
---
price is not the problem
---
Offering a deep discount is admitting to your customer that you're not worth much to them. Stop talking numbers and start showing some personality.
use dialogue and emotion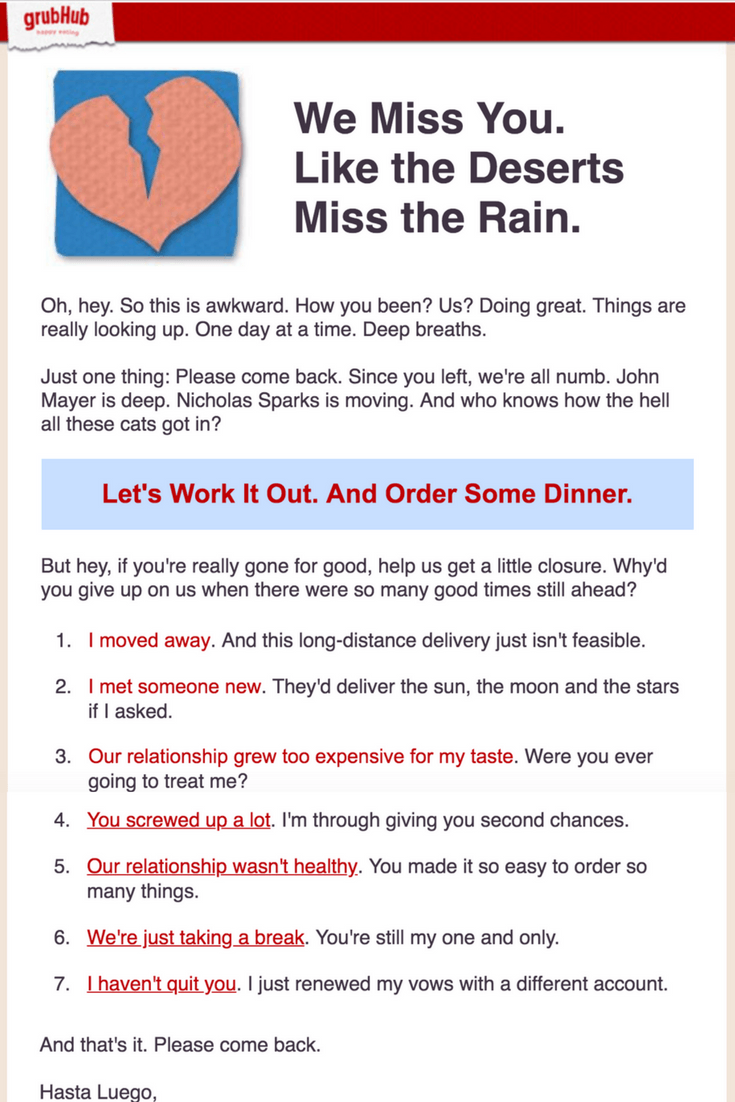 GrubHub does a great job being human and personable. They recognize that there is a problem and show sincerity in asking the customer what went wrong with a straightforward, communicative survey. One key element is that they used dialogue. Humans don't talk in short, to-the-point phrases. We communicate through dialogue and emotion. Try creating dialogue to show that you are open and wanting to talk. And use emotion. Remember–you are a person. They are a person. And persons connect through emotion.
---
We communicate through dialogue and emotion
---
key take-away
Don't be a robot!
Find more of Karina's marketing insight at Purple Door Digital Marketing.
For more specifically tax and cash flow management advice schedule a Free Planning Session today.
Follow us on…